Jeans is the most comfortable piece of clothing you can ever wear. They can be worn at all times and by every age group. You can do anything with it on: eat, sleep, walk all day, run, play, sit, and whatnot? Jeans are perfect.Now, the question arises about the shoes. There is a variety of shoes one can team up with a pair of jeans. The colour coordination should match, which of course, is up to you. Here's a list of men casual shoes you can pair up with jeans.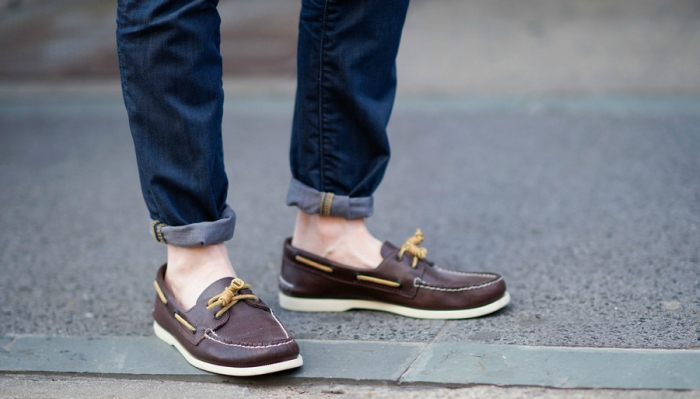 Boat Shoes: Denim Boat shoes are the most popular kind of boat shoes. These come on the top of the mens casual shoeslist and are totally meant for jeans. You can wear it for casual purposes and suit your shoes with a matching t-shirt.
Tennis Shoes: Tennis shoes is perfect to pair with jeans when you want a casual outing, like, to the mall, a friend's place, the park, the grocery store, etc. They are comfortable and don't get dirty that easily. Also, they are easy to wash off.
Loafers: A black or brown pair of loafers isgreat for both formal and informal wear. They look amazing with jeans and are very comfortable to walk in. If you want to go in for a casual look, try canvas or textile loafers, and for a formal one, try leather loafers.You may find formal loafers in only black or brown, but the casual ones can be found in a variety of colours.
Boots: Boots are like the male- version of the stilettos! Like, seriously. They are amazing with jeans and give you a classy look. Usually, guys go for brown or black leather ones, but these are available in various colours.
Boots go so well with blue denim, that it's inexplicable.
Oxfords: The most distinctive feature of Oxfords is the layered leather on the top, with designs. They look beautiful with buttoned shirts and jeans. They make the entire attire way classier. A business-casual is what you wear Oxfords for.
Sneakers: Sneakers look great with jeans. They are mostly worn for casual affairs. Because it is so comfortable, they are perfect to wear, even on an everyday basis. You can wear sneakers for almost every casual outing: dating, eating out, shopping,
Brogue shoes: These shoes used to be very popular in the 80s and 90s, but have made their way into today's trend too. The brogue designs on the top with the wooden bases are extremelysexy, and you can wear them with jeans. The blue denims look excellent with the brown shoe.
Monkstraps: Monkstraps look great with tapered cut jeans. This is a mix of open lacing shoes and loafers. If you haven't bought your shoe, these could be it. These are very stylish and extremely comfortable. Go in for a black one, with blue denim.
These days, it is convenient to buy men and women shoes online, because it saves a lot of time. Since, jeans are something you will always wear, pair it up with good choices of shoes, to look stylish.