Making a new home can be a stressful, a hassle and a pain in the behind when you do not plan ahead, strategize and act smart. Restarting your life in a new location and in a new neighborhood is a task that needs a lot of effective logistics, and also a lot of help and handymen. Of course, you would have to start from square one – and that's making sure that your move from your old house to your new house is as cost-effective, efficient and as on-budget as possible. And the key to this is actually hiring a company that will help your move be as hassle-free as possible. Companies like Allied Van Lines can help you with that! With a strategic and well-conceived plan, you might be able to save a lot of money that you never thought you could. You could save it, or even better, spend it on making your new home as homy and as comfortable as possible.
Making your new home won't be an easy task. You will have to adjust to the new environment (new everything, to be quite frank). You will have to insert elements that you are very familiar with in your new home to make you adjust to it as fast as possible.
If you're lucky enough, you might have just moved into a home that is blessed with an outdoor backyard space – and this could be an exciting feat to undergo for a new mover. The possibilities are endless when making your new outdoor space your new favorite spot at your house. Plus, this could also make your new move a bit more exciting and interesting because now you are creating a whole new space for interaction and relaxation.
A helpful mindset before touching on your backyard; you have to keep in mind and be informed on the weather and seasons that your area experiences, and from here adjust your ideal backyard design. You would not want your designs to work perfectly on the sunny season, and be unusable (or even destroyed) during the wet seasons.
To help you with creating your own outdoor space, here are a few helpful tips to make your new spot as enjoyable and exciting as you!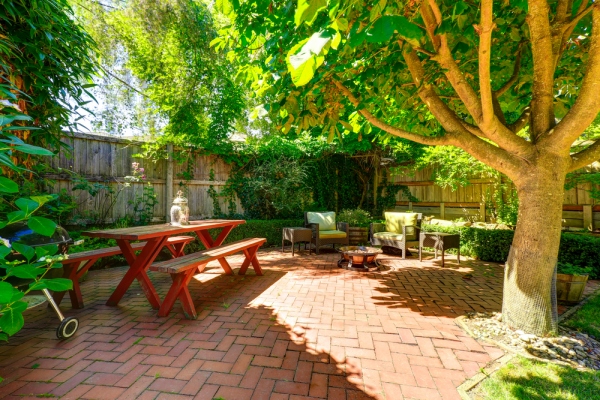 Brighten up your area. Proper lighting can go a long way. Make sure to have an abundance of natural light. Cater to brighter hues which are energetic for the eyes. Make sure to balance with shades to become a nice spot on hot and sunny afternoons! A fail-proof tip would be to put accents of yellow and green in some areas that look dull to make look a bit more dynamic.
Low ceilings outdoors are low energy! If you're looking into having a patio by your backyard, make sure to raise that roof as high as possible! That's for more breathing space. If you're also going to include umbrella spots in your backyard, it's going to look more relaxed if it is raised a little higher as well.
If you have a little extra budget, add a swing to your backyard. A nice two to three-seater swing that is covered with comfortable mats and pillows would be perfect for your afternoon siestas.
Mirror the elements of your landscape. Make sure that your design actually connects with your landscape. You would not want disconnected energy in your supposedly energetic area.
There's always space for a barbecue spot! Everyone loves a barbecue afternoon with your neighbors and buddies. If you got the coin for it, a nice grill would fit any backyard, and it is a fool-proof conversation starter.
Invest in your outdoor furniture. Your furniture will surely be exposed to a lot of external elements that will wear at your furniture endlessly. Make sure you buy furniture that is made for the long haul. Stick to hardwoods and tempered metals because they tend to stay strong in any environment.
Decorating is something fun and it will make a personal relationship with you and your new home. That's why celebrities like Martha Stewart enjoy it so much! Happy decorating!