Email signature builder is a perfect tool for anyone who wants to maximize the impact of their emails with the help of professional-looking signatures. A good signature attracts attention, adds a nice final touch to the email, and could also help boost sales or drive traffic (depending on what you put into it).
However, why use email signature builders to create a signature? Is it really the best choice for you and your business, or maybe you should try other options (hire a designer, for instance)? Let's figure this out.
What does an email signature builder do?
Email signature builder allows you to create beautiful and professional-looking signatures in a few mouse clicks. All you need to do so that your emails stand out is to pick the right service for that purpose, choose a template that seems the most appealing, and start creating.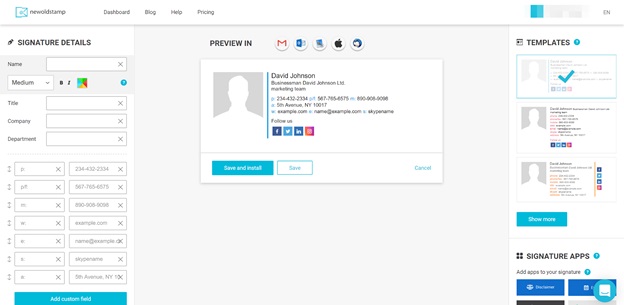 How to pick the right email signature builder?
The choice of service depends a lot on your needs and the time you can spend on signature creation. For instance, if you need to create a signature quickly, almost every simple service will do: sure, you won't be able to choose among a variety of templates, but the process itself will be very quick.
On the other hand, if you need to create a clickable email signature that complements your email's design and possibly includes things like banners, CTA buttons, and download links, a simple service most likely won't be enough for that. Instead, you need to pick a professional one like Newoldstamp that offers a variety of design templates, allows you to add social media icons to your signature, and so on.
Professional email signature builders also enable diverse customization: from picking the color of icons to managing blocks, changing borders, choosing fonts, and many more.
Using builders: pros and cons
Email signature builders enable you to create great signatures without any prior knowledge of design and coding. You also won't need to worry about whether your templates will look good on mobile devices or not: they will, at least if you decide to use a professional builder that enables the creation of responsive signatures.
Furthermore, in most cases, you can do it for free. Sure, most of the professional email builders offer premium plans with a variety of additional options, but it's still possible to create a great signature using only free templates and customization options.
If you need a simple signature, you'll be able to create one in a couple of minutes. If you need a more complex one, it might take more time to design it; however, it still won't take more than an hour or two at most. In any case, this would be much quicker than looking for a professional designer and asking them to design a signature for you.
Furthermore, you'll be able to quickly edit or update your signatures with the help of such services.
What are the cons then?
Well, the main flaw of email signature builders is that you're still limited by the templates and the customization options. Sure, you can purchase a premium plan to get access to premium templates and extended customization, but the whole process still won't be as flexible as to when you create a signature on your own or with the help of a professional designer. For instance, you won't be able to upload multiple banners if a template doesn't allow that.
Lack of originality is another disadvantage of email signature builders. If you create an email signature using a builder, you have to understand that you can easily see similar signature templates in other emails. Sure, they won't be exactly the same; however, this might matter if you aim to stand out and be truly unique.
Summing up
Email signature builders is an excellent option for startups, small, and medium businesses, personal brands, and for anyone who wants to create a signature quickly without hiring a designer and paying a lot for it. In most cases, an email signature makes a difference; however, it makes it even if you don't spend a lot of time and money on its creation.
If your business is big or it's essential to you to create an email signature design that truly stands out, you can also benefit from email signature generators, as you will save a lot of time and resources with them. Hiring a designer, you might have to wait for some time before you get your perfect signature. Furthermore, its price most likely will be much higher, unless, of course, you have a staff designer working for you.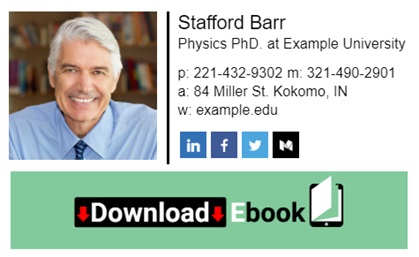 As you can see, the final choice often depends on your goals and resources. However, in most cases, email signature builders are a perfect choice as they allow you to add a creative spark to your emails without struggling a lot in the process.