Financial Industry Regulatory Authority (FINRA) is an independent agency that regulates 4,500 brokerage firms, 163,000 branch offices, and 630,000 registered securities agents across the U.S. FINRA – formerly known as Securities Industry Regulatory Authority (SIRA) – provides licenses to firms and brokers that sell securities to members of the public.
FINRA receives and reviews thousands of customer complaints and resolves matters between investors and the broker, investment company or financial advisor. Take the example of Joel Wilson, who created a multi-million dollar scam in Michigan. He is said to have promised customers to deliver 10 percent interest on investments made in the so-called government-insured funds. FINRA developed an aggressive investigation plan which helped them identify almost 120 people, mostly from the low-to-moderate income households, who had invested (jointly) about $4.5 million with Wilson. A case was filed and Wilson was convicted on nine felony charges. He was ordered to pay $6.5 million in restitution to his victims and serve up to 20 years in prison.
FINRA has helped numerous people avoid being scammed, and has also saved brokers from false allegations.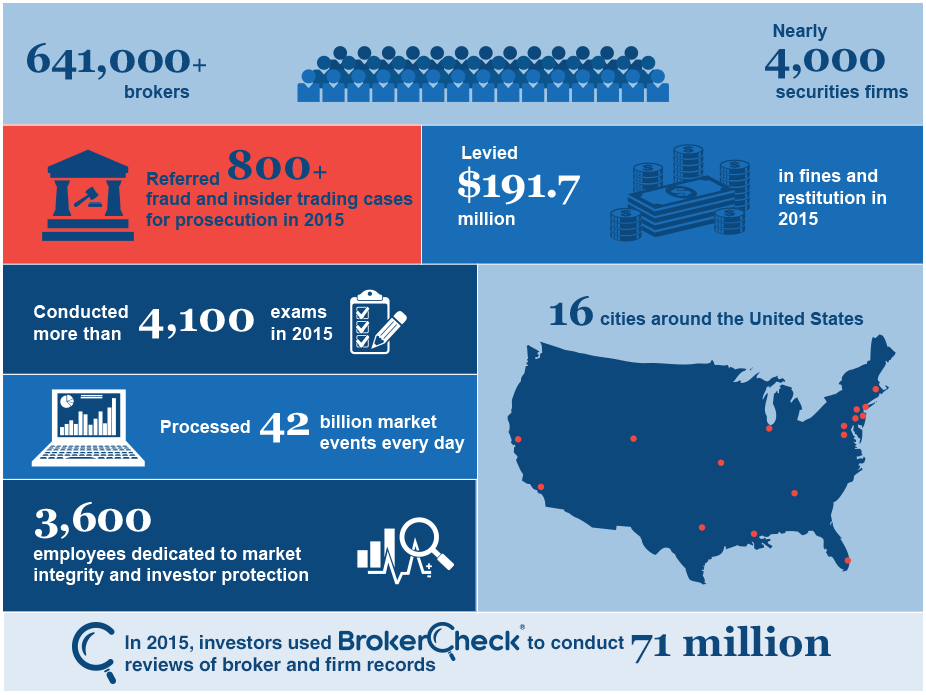 Almost all brokerage companies require their clients to sign FINRA arbitration agreements. This means if you need to sue the broker or the investment company/advisor for fraud or malpractice, you need to use the FINRA arbitration process instead of moving through court. If you believe you have been scammed by a broker or an advisor, consider hiring an experienced FINRA attorney in your area and file a case without delay.
Before you file a case, here are a few things you need to know about FINRA arbitrations:
Types of Fraud Identified by FINRA
The following types of fraud are identified by FINRA. If you have been a victim of any one of the following, consider filing a case with help of an attorney:
Pyramid Schemes: People involved in this fraud promise investors with huge profits on small amounts of investments. Participants earn money by roping in new participants. The scheme falls apart as soon as there are no new participants.
Ponzi Schemes: This is similar to pyramid schemes, with the only difference being that the investments made by new participants are used to pay the profit to the earlier investors. The participants are not responsible for recruiting new participants.
Advance Fee Fraud: People receive offers where fraudsters offer deals to buy worthless stocks at high prices. But in order to strike a deal, a certain amount of fee has to be paid in advance. Once the person pays the fee, he never hears from the fraudster.
Pump-and-Dump: Fraudsters buy low-priced stocks and raise interest in the stock to increase its price. Investors are then roped in to buy these stocks at higher prices. Once the stocks are sold, the fraudsters are nowhere to be found.
Offshore scams are also identified by FINRA; however, it may be difficult for U.S. law agencies to investigate and resolve such matters. It is, therefore, advised that immense care should be taken when investing money in schemes that are not regulated by the state.
If you have already suffered losses, look for an experienced securities arbitration attorney who can help you file a case and get compensation.
Tips to Find a FINRA Attorney
It is necessary that you work with a lawyer who is specialized in representing FINRA arbitrations. Before hiring a securities arbitration attorney, here are some factors to consider:
The number of investment fraud cases they have handled in the past and their outcomes.

Whether they are registered to the local or state bar council.

Feedback from past clients.
According to the U.S. Securities and Exchange Commission (SEC), people in need of hiring a securities arbitration attorney must:
Consult their family lawyer and know about the options available. He or she will help you to determine whether or not you actually need to hire a securities arbitration attorney.

Talk to several bar associations –

American Bar Association

, and

Public Investors Arbitration Bar Association

for example, and create a list of the most desired attorneys. Schedule appointments with attorneys who are willing to provide free consultations (for the first meeting).

Check out directories of local attorneys to expand your options. Most states and local bar associations create directories and list attorneys by their specialty.
Too many people become victims of investment frauds across the nation. It is, therefore, necessary that investors exercise some extent of care when investing their hard-earned money. However, if you still get scammed, consider filing a case with FINRA with help of a securities arbitration attorney.
In case of investment frauds, victims are required to use the arbitration process instead of moving to court. This should not dishearten you as arbitration offers several advantages, with the biggest one being that cases are resolved quickly, ideally within a year or less. If you believe you have been scammed, take necessary actions immediately.
(Image source – 1,2)