Valentine's Day is a best day to show love for your loved ones. 14th February is a special day for lovebirds. They celebrate their love, express their feelings, and give each other unique and romantic surprises. Exchange of gifts is a must do thing on Valentine's Day. Some love birds propose each other with a common sentimental statement "Will you be my Valentine?" Those who are already in relationship or are married, find different ways to exhibit their sentiments, love and care for their love buddy.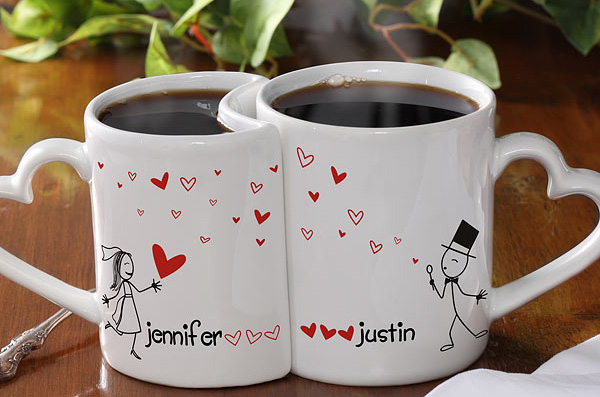 This Valentine's day, surprise him with personalized valentines gifts for him. Personalized gift is the best way to show how much you care for him. Such gifts are called as thoughtful gifts and they are most romantic way to express your love and care. Here we have ideas of Unique Personalized Valentine's Day gifts for him.
If you are sure about his hobbies and interest, then choosing the gift according to his interest can be a great idea. Say him I love you in an unforgettable way through these trendy customized gifts.
Personalized Valentine's Day gifts for him can be chosen according to his taste. If he is jolly go for cute and playful gifts like something flirty written on the garments. For instance, you may write "Property of Emma". Emma is a name. You can write your name on it. Get it printed on underway is he is naughty.
If he is sexy and romantic kind of person, then gifting him heartwarming mug with interlocking hearts on it is a wonderful idea. Every day, he will warm up with a mug of tea or coffee and with your feelings.
Sexy and flirty texts written on photo frames and desk accessories are also worthy.
If you are thinking of giving him something wearable, then personalized T-shirts with any romantic words of your choice written on them can be catchy.
As Valentine's Day is about cocktails and cookies, then why not toast him his favorite cookies?  Get him number of cupcakes with chocolaty taste of your and his moments pictured on them and an I Love You written with your hot red lips and a sexy heart.
Fetch him a customized cushion to give him more comfort. He will be relaxed hugging that cushion and will obviously think about you.
A personalized cell phone cover with your and his memories on it is a goof valentine gift for your valentine.
Customized watch with a picture on the dial proves to be a great romantic gesture for him.
Customized neck tie with something special on it is an amazing gift for expressing love.
Personalized boxers with a fun or romantic message on them are unique way of exhibiting your sentiments.
Surprising your boyfriend or husband with the décor of personalized items, red balloons with your and his pictures on them, posters containing romantic texts and pictures, a romantic photo booth, sexy props, flirty cookies with his favorite personalized beer mugs is a great idea of celebrating love.