If you're looking for baby shower gifts for expecting parents, sometimes it can be difficult to select the right gifts, especially if you don't know the sex of the unborn baby. Some parents choose not to know the sex of the baby so that it is a surprise when it is eventually born. Whilst a beautiful sentiment, it can make things tricky when it comes to baby shower gifts. Here are 5 gender neutral baby shower gifts that we've gone silly over.
Baby Clothes Vouchers
If you aren't sure of the sex of the unborn child, obviously you can't go out and buy baby clothes for the expecting parents, because you don't know if it is going to be a girl or a boy. The last thing you would want would be to buy heaps of pink baby clothes online for girls, only to find that the child was in fact a boy. What you can do however, is purchase baby clothes vouchers instead, because that way, the parents can use the vouchers on whichever clothes they want, once they know the sex of the baby.
Baby Store Vouchers
Babies require heaps upon heaps of specialist care and produce; baby slings and carriers, changing mats, toys, not to mention clothes that they'll grow out of almost instantly! So if you're looking for gift ideas for vouchers other than clothes, you may wish to simply go with vouchers to a baby store instead. This way, the parents can purchase bottles, diapers, baby grows, changing mats, and anything else appropriate, regardless of the gender of the baby.
A Precious Prints Picture Frame
Another fantastic gift idea for a baby shower is what is known as a precious prints picture frame. These frames are basically picture frames, often made from wood, in a series of shapes that are designed to be hung on doors or walls. They often feature blank windows within the frames, which you then use to decorate with your baby's hands and/or feet prints. Using specialist baby-safe paint, the parents carefully dip the hands and/or feet in the paint, and ever so gently place it into the appropriate window, leaving a print of the tiny hand/foot which will last forever.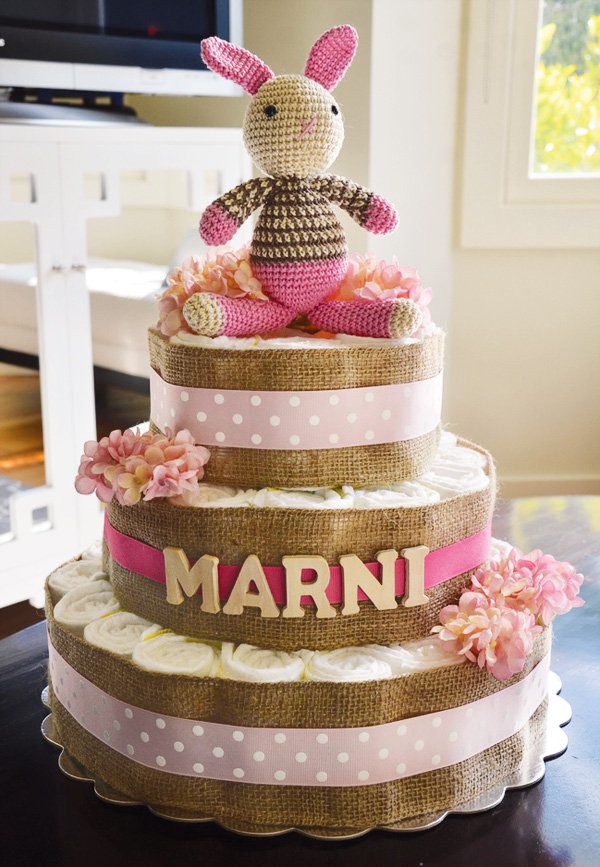 Diaper Cakes
Don't worry, these gifts aren't anywhere near as gross as they sound, as the cakes are most definitely not for eating. Diaper cakes are basically a series of brand new and unopened diapers that have been arranged into a cake shape, and have then been decorated with ribbon etc, around the edges. You can get single, double, or even triple tiered diaper cakes that actually look fantastic, and are also very useful, because if there's one thing new parents are going to need, it's diapers.
Gender Neutral Clothing
Obviously the baby is going to need to wear something when it is born, regardless of the sex, so for this reason, you may wish to go ahead and purchase gender neutral baby clothing. Go with neutral colors such as creams or whites, and go for neutral styles at the same time. Cream onesies for example, will go down an absolute treat.